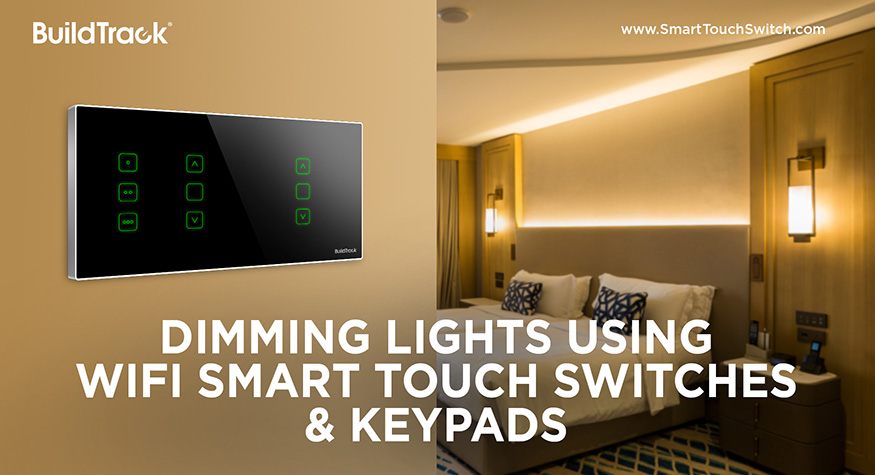 DIMMING LIGHTS USING WIFI SMART TOUCH SWITCHES & KEYPADS
Dimming is an essential aspect of lighting these days. Dimming helps to create the desired ambience or mood for various occasions. Whether you are in a mood for quiet reflection, reading or meditation or want the opposite and seek brightly lit areas to do your work – all this can be controlled through the level of dimming of various lights. There are multiple lights in a home, typically cove lights that are hidden, spot lights that are exposed, wall lights that help illuminate the vertical walls or décor on the walls, all of which need to be controlled through the circuits that power them.
Since LED lighting is the most prevalent form these days, the dimming control of these lights is achieved through multiple different alternative options that users have to choose from, such as
Phase-cut dimming: Which work by taking the line input power (240V) and modulating the signal to reduce the power to the load to dim it
Analogue Dimming: Which works through drivers that are placed between the input power and the load, and the drivers either vary the current or voltage provided to the LED as per its specification, in order to change the level of brightness of the LED
DALI Dimming: This is a system of drivers that are connected together and each drive is uniquely addressable for control. DALI stands for Digitally Addressable Lighting Interface. The drivers modify the current or voltage based on the communication signal sent to its unique address.
Wired or Wifi Smart Touch Switches or Keypads from BuildTrack, offer an aesthetically elegant surface that can be used for dimming. The footprint used by these switches can be significantly compressed because up to 3 individual dimmers can fit into a single switch module, as the below images show for analogue dimming solutions. This helps to conserve wall space without reducing the functionality that is desired by the users and also adding to the aesthetics of the room.

If the level of dimming across multiple lights a given room is one that the user likes to consistently use during some event, for instance, while reading or while watching TV or while doing meditation etc. Then each of those formats of lighting can be captured in a 'Scene' or a 'Profile'. Triggering this profile would mean that all the relevant lights turn on and change to their pre-determined dimming levels and all the irrelevant lights turn off. This is where Keypads become relevant as the interface for triggering such Profiles, especially for DALI dimming but also as a convenience for other forms of Dimming. Below images show Keypads of various sizes depending on the number of profile buttons that are needed on them, and typically these numbered buttons can be replaced by icons for more elegance.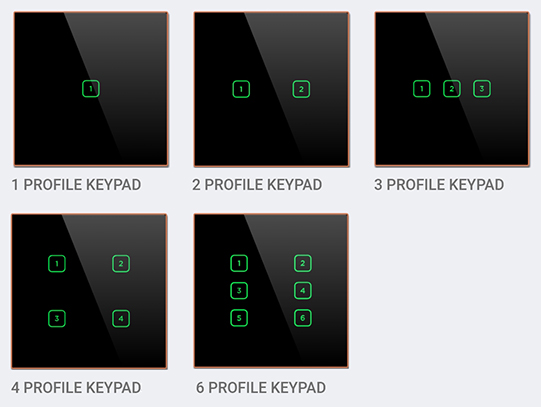 The benefits of Profile Keypads is that a single key on it can be used to trigger multiple lights all to different levels of dimming, as desired as mentioned. Although Keypads can have other benefits also. Typically users are not just concerned with lighting while creating a desired ambience, but perhaps with other aspects as well such as curtain opening/closing, air conditioning level being either high or low and even perhaps entertainment devices like TV being turned ON/OFF. BuildTrack's Profile Keypads addresses that directly, because non-lighting items can also be included and triggered from a single button of the Profile Keypad. Another aspect is that users might change their mind about some elements of the Profile, as they use it and realize that some changes might suit them better than what they earlier thought. For instance they may want some lights dimmer and others brighter. This can simply be achieved by changing the Profile online from the Smart App and the physical Keypad button will trigger the new Profile with the changed dimming levels.
The BuildTrack Smart Touch Switches and Keypads are both aesthetically pleasing on the walls and can enable the type of dimming and Profiles or Scenes that meet the users needs and keep up with them if those needs should change in the future. They can be also be triggered from BuildTrack's Smart App or Voice Assistants like Alexa or Google Home. Even when away from home, they can be turned on/off over the internet.