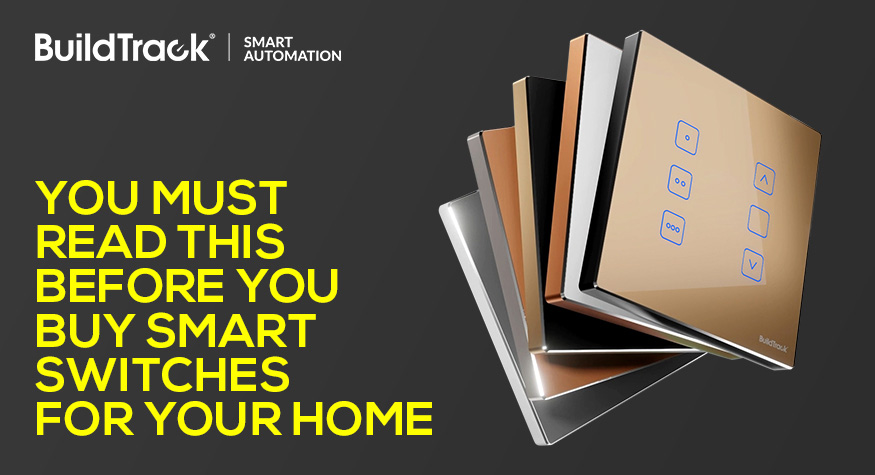 YOU MUST READ THIS BEFORE YOU BUY SMART SWITCHES FOR YOUR HOME
So, you have decided to buy smart switches for your home, but how do you figure out which is the right device? In this blog, we will give you a comprehensive view of what you should look for while buying it? Since we are in India, our viewpoint will be according to the typical conditions and constraints that we face here.
Aesthetics
A switch to a wall is what a watch is to a hand. Besides being functional, they are also an important part of the design makeup. So, aesthetics is a big part of the decision-making process and should never be ignored. No material offers the same level of finish as a tempered glass panel, which is safe and adds an element of class to the ambience. The edges of the switch if framed with glistening metal both adds to the classy look as well as ensures a good look from the side view. Other elements to consider are the choice of colours for the glass as well as the metal frame. Complementary or contrasting choices are a personal preference, both add to the look just like between the watch bezel and the strap. The thinner the switch, the more it looks flush with the wall and more elegant.
Module Type
The starting point while buying touch switches for home is to select a device that suits the needs of the room, so what do you want to control? Geyser? AC? Fan? Lights? Curtains? And how many do you need to control? Once you know that, then all you need to do is find a module that meets your need. In India, we have more switches than we actually use so it might be a good idea to get rid of the unwanted ones, or find the modules that compress multiple functions into a smaller area, for e.g. having 2 or 3 dimmers in the same space as 1 dimmer.
It is not always that you can whip out your phone to open a smart app to control your switches, you will need to think about where on the wall you want your touch switches for home to be installed. Often you will have to think ahead if there is to be a 2-way switch needed. Another flexibility to consider is those offered by touch keypads. These are not actually connected to your devices like lights but still are placed in the wall where power is available and the keys on it can control one or multiple devices in your home. So 'All Off' key might switch all the lights and ac's in a room.
Wifi Chip Or Wired
The smart touch switch has to be connected to the internet. If you choose a wifi enabled switch then it will communicate to your home router and connect to the internet. This is especially convenient when you have finished your wiring and still want to have a Smart Touch Switch that can be controlled remotely.
However, that is not your only option. If you are renovating your home or building a new home and have the option to consider wiring during that activity then it is best to also consider a wired touch switch which connects to a hub. The hub is then connected to your wifi router to allow you access to all the switches remotely. The advantage of this is that instead of multiple switches connecting to your router, only 1 hub will be connecting to it putting less load on the router. Since these days the number of internet connected devices like phones, TVs and more are multiplying this will be advantageous as routers will have their own natural limits on the number of devices that they will connect with.
Cloud Technology & Smart Apps
Smart switches for home need to be controllable from anywhere; that is why the cloud technology that underpins it must be fast, reliable and secure. The device must be available at any point in time and respond to commands quickly. This requires that the touch switch provider also provide you with access to cloud infrastructure that can be reached through its smart apps.
As you are aware not all Apps are the same. So, it is important that you experience the app that connects to your switches. Does it provide only a listing of devices or does it provide a visually appealing image of the room, such as a 360deg view of the room so that you can use it to easily locate the switch. This type of visual interface does have a better feel than looking at an endless list of lights to choose from.
Integration With Voice Assistants Home Platforms
It is important that the smart switch integrates with the other voice platforms like Alexa and Google Home which are the 2 most widely used voice assistants in India. Each of these platforms has its own apps and different ways of controlling devices which means that users don't have to depend on mobile apps to control switches.
In Summary: Smart Touch Switch improves the ambience of your home. The vibrant colors in the touch glass and the metallic luster of the bordering frames perfectly complement or contrast any wall color. The leading-edge technology offers residents all the comfort and convenience while ensuring that the all the appliances like the lighting, fans, AC work together as intended through smart apps, voice, offered by us.