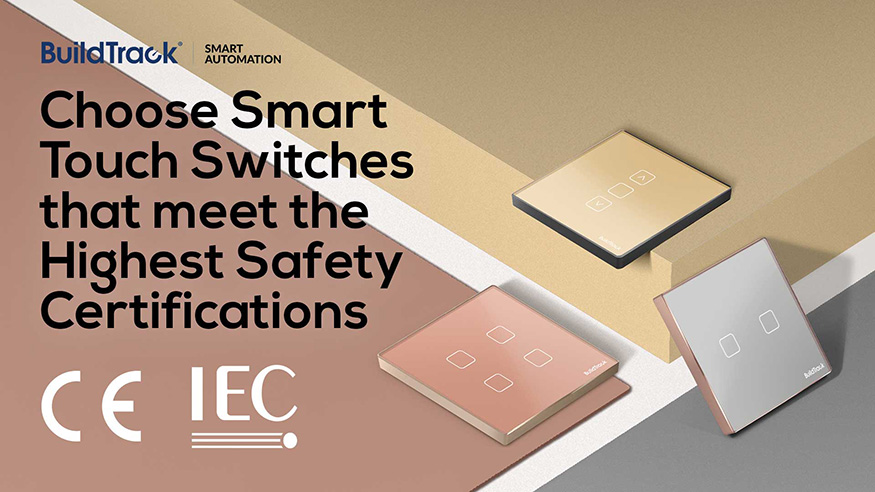 DOES YOUR SMART TOUCH SWITCH MEET KEY CERTIFICATIONS FOR SAFETY AND HEALTH?
If you are planning to have Smart Touch Switches or Home Automation as part of your home, then you have to look at the certifications that the products carry. While users are not typically acquainted by the certifications, it is at least important to be familiar with some of the key certifications because these products are installed within your homes, and you and your family constantly interact with them and are constantly in the vicinity of these products. The objective of this article is to share some of the key certifications that you need to look for
Safety Certification
While the Smart Touch Switches are electronic products, they are directly connected to your AC electrical systems. It is therefore essential that the safety level of these products conform to the highest global standards. IEC 62368 is a new global standard that was introduced in Dec 2020 to supersede all existing standards for safety. It is based on sound engineering principles, research and field data. It addresses all hazards that are likely to influence the operation of the device and evaluates all the internal safeguards that are built into the device to tackle such hazards. An important aspect is that, the 62368 standard applies not only to the end-user product but also to components and subsystems within it. It is the gold standard of performance testing for safety and IEC 62368 has been incorporated by almost every single country/geography for their own certifications, as seen in the figure below. In fact, countries such as US, Singapore, and other developed countries have made such certifications as a mandatory items for such products.
So when you buy your next Smart Touch Switch, check to see if it has the 62368 Certification! You and your family constantly interact with the switch. You need to be sure that it is safe !

Radiation Emissions Certification
The term Radiated Emissions refers to the unintentional release of electromagnetic energy from an electronic device or apparatus. Any electronic device may generate Electromagnetic fields that unintentionally propagate away from the device's structure. The Bureau of Indian Standards (BIS) has adopted the BS EN 61000-6 standard set for such 'electromagnetic compatibility' of such devices with strict limits on the radiation. This is the same standard as the international standard adopted by both FCC (U.S) and CE (Europe). The device is placed in an anechoic chamber (see Figure) and its radiated energy measured via an Electromagnetic Compatibility Test. It is certified if it is within acceptable limits for its appropriate use situation, such as in this case Residential Use for home automation products.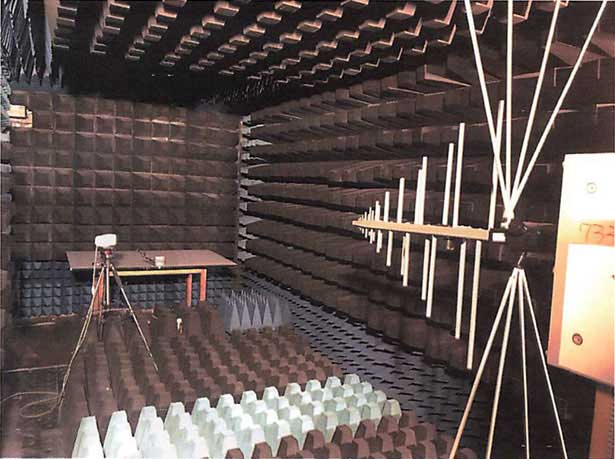 Product being tested in an Anechoic chamber.
RoHS Compliance Certification
European Uniion rules are some of the strictest that are restrict the use of hazardous substances in electrical and electronic equipment to protect the environment and public health. The RoHS Directive currently restricts the use of ten substances: lead, cadmium, mercury, hexavalent chromium, polybrominated biphenyls (PBB) and polybrominated diphenyl ethers (PBDE), bis(2-ethylhexyl) phthalate (DEHP), butyl benzyl phthalate (BBP), dibutyl phthalate (DBP) and diisobutyl phthalate (DIBP). Many of these were used in the PCB manufacture, and if a product is RoHS compliant then these chemicals have not been used within the product.
BuildTrack's Smart Touch Switches comply with all of these requirements. The touch switches comply with IEC 62368 which is the "gold" standard for safety . The product complies with BS EN 61000-6 which implies that any radiated emissions are well within limits for residential use and the product is RoHS compliant, ensuring environmental and users health. BuildTrack's Smart Touch Switches are the Touch Switches on the market that currently comply with all these 3 safety and health related certifications.